About Many Faces One Humanity™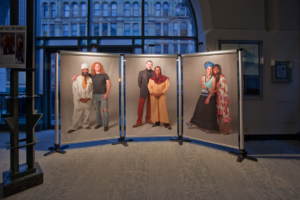 HISTORY
Many Faces One Humanity™ began as a concept of artist and photographer Sherry Lemke. She photographed people of Milwaukee from dissimilar backgrounds. Initially planned to be an art exhibit, it has been embraced by community leaders and partners and is now a non-profit organization with a full awareness campaign. The purpose of this project has evolved, using photographic art as a transformational tool, affecting cultures and attitudes in Milwaukee.
MISSION
Create visual awareness of Milwaukee's diversity to transform attitudes and culture.
PURPOSE/VISION
Many Faces One Humanity™ transcends cultural preconceptions and creates a universal connection that transforms communities to eliminate segregation, separation and inequality.
BOARD OF DIRECTORS
Jeffrey Joerres, Chairman of the Board
Retired  Chairman and CEO ManpowerGroup
Maria Monreal Cameron, President
Past President and CEO of the Hispanic Chamber of Commerce of Wisconsin
James H. Hall, Jr., Vice President and Treasurer
Hall, Burce, & Olson Law Firm, past President of the NAACP Milwaukee Chapter
Sherry Lemke, CEO
Artist and Photographe
Raejean Kanter, Board Member at Large
Executive Director, Eternal Wish Foundation
Matthew Zumbo, Board Member at Large
Matt Zumbo Illustration
Graziella Vesta, Board Member at Large
Director Client Services, Right Management
Charmyse Tillman, Board Member at Large
Community Involvement and Engagement Specialist, Johnson Controls